Zome System
it will change the architecture of your mind
Zome System Pioneer Kit is the perfect introduction to this extremely sophisticated, yet easy to use, ball and stick construction system - build a house, a flower, or mathematically correct geometric solids.
Concise color instruction booklet, with models and a plastic tray for sorting and storing parts. secure online ordering for US delivery Buy Today

121 Parts
25 white nodes
16 each of 3 lengths blue struts
10 each of 3 lengths yellow struts
6 each of 3 lengths red struts
The Creator Kit contains 968 parts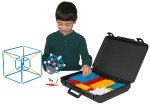 Creator Kit is an advanced construction system using the same proportions found in growing cells, crystals, and other natural forms. Discover mathematical connections between space and the natural world. The Creator Kit is a recipient of the Parent's Guide Children's Media Award. 968 parts. secure online ordering for US delivery Buy Today

968 Parts
200 white nodes
128 each of 3 lengths blue struts
80 each of 3 lengths yellow struts
48 each of 3 lengths red struts
Color and Shape show the Way
Zome System has something for everyone

Children as young as 6 years old use their little fingers to intuitively explore different shapes and patterns. Fixed joints allow construction of complex shapes, because the necessary angles are built into each node. Blue struts fit into rectangular holes; yellow struts into triangular holes, and red struts into pentagonal holes.
Zome is a powerful design tool and educational toy for children and hobbyists, students, teachers and researchers. Precision molded in ABS plastic.
Zome System is the ultimate construction toy with thousands of creative uses to capture the imaginations of children and Ph.D.s everywhere.
"You don't have to be a rocket scientist to enjoy Zome System. But we love it too," said NASA Scientist, Dr. David Noever. National Aeronautics & Space Administration uses Zome System to research space frames and to study the effects of weightlessness on colloid crystals.
Children use Zome to model towers, dinosaurs, helicopters, and crystal patterns. 1,200 schools in seven countries use this construction toy to teach math, science, art and technology concepts. Because the necessary angles are built into each node, Buckyballs, DNA, quasicrystals, viruses and other natural shapes almost build themselves.

Amazon.com is pleased to have Froebel Web in the family of Amazon.com associates. We've agreed to ship products and provide customer service for orders we receive through special links on Froebel Web.
Amazon.com associates list selected books and music in an editorial context that helps you make the right choice. We encourage you to visit Froebel Web often to see what new items they've selected for you.
Thank you for shopping with an Amazon.com associate.
Sincerely,
Jeff Bezos
President
Amazon.com
P.S. We guarantee you the same high level of customer service you would receive at Amazon.com. If you have a question about an order you've placed, please don't hesitate to contact us.